Facts
Born in Uppsala 1962.
Moved to Stockholm 1965.
Family:
Married to Lotta Kühlhorn (graphic designer and illustrator). Three grown up sons – Fabian, Sigge and Folke.
Travels:
Gotland, Berlin, Languedoc, L.A.
Music:
David Bowie. Lottas disco and soul playlists. Some jazz (Lars Danielsson).
Books:
Freedom by Jonathan Franzén, The Patrick Melrose Novels by Edward St Aubyn.
Film/tv:
Succession and Sharp Objects (HBO).
Drinks:
Coffee, wine of various colours, home grown cider.
Restaurants:
Surfers and Wood Stockholm (Stockholm), 3 Minutes sur Mer (Berlin), Bakfickan (Visby), Fish and Maison Harlem (New York).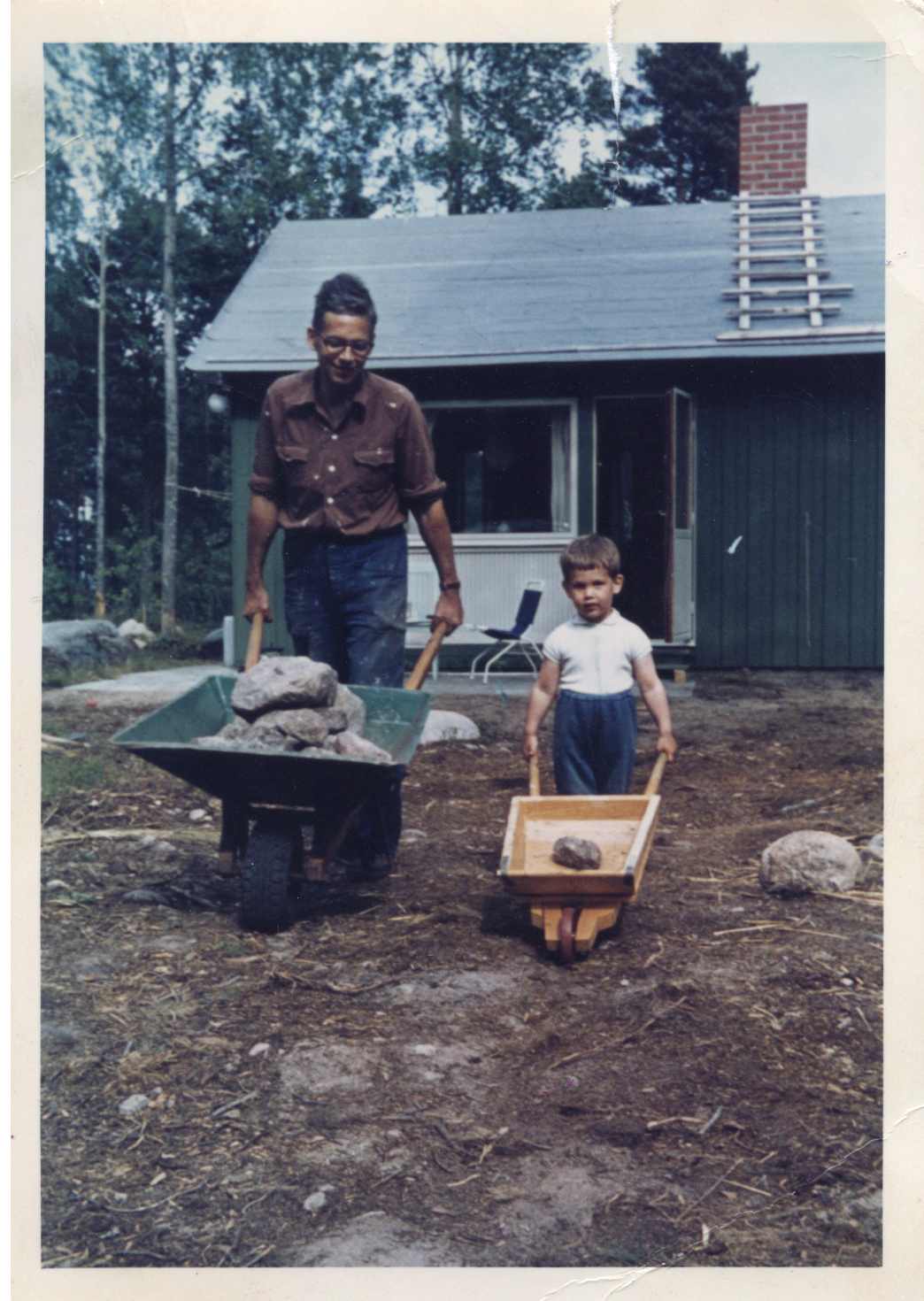 I think I'm three and a half years old in this picture. My parents had recently bought a summer house in Grisslehamn (a small fishing village north of Stockholm which will occur in The Winter of the Prophet). I was born in Uppsala in 1962, but we had already moved to a Stockholm suburb at the time this picture was taken.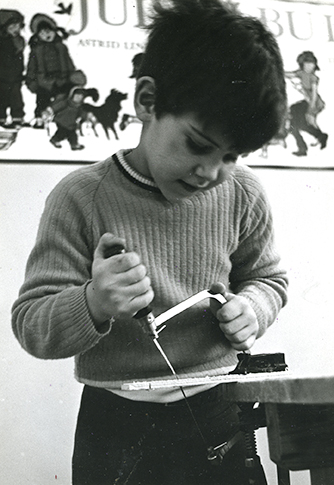 There was a lot of fretwork going on in Kindergarten. May be it was a way to develop the fine motoric skills, or may be just a way to keep us busy. This was during the fall when I turned six. In the spring my parents separated, my mother tried to kill herself and I went to stay with relatives in Småland in the south of Sweden. I have written about that period of my life in To Sara! Burn after Reading. (Not available in English.)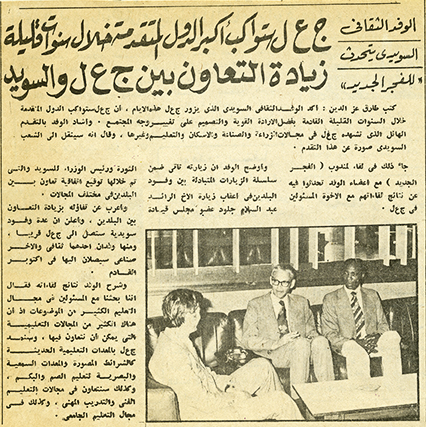 My father travelled a lot on his job. He was seldom at home on my birthdays. He travelled the most during the seventies, often to Paris, but also to the Nordic countries and to North Africa. Here he is on a mission in Libya.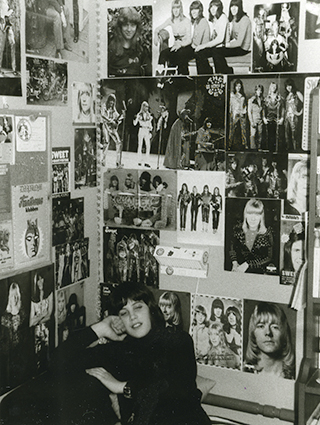 At the age of eleven, twelve I was a big fan of The Sweet, but after a summer in London to study English I came back with David Bowies album Aladdin Sane and the Sweet was history.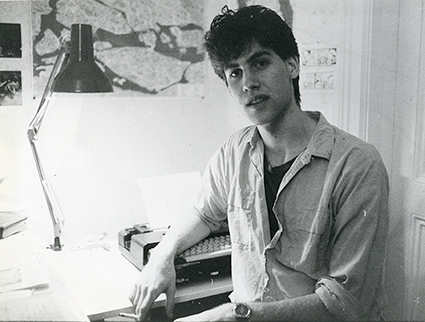 At twenty I had published my first book, a youth novel, and had started to work as a journalist. After living half a year in Paris I moved in with some friends in Stockholm. Many came to our Sunday dinners, in the apartment on S:t Eriksgatan, to drink cheap Spanish Wine and have a simple meal (like soupe à l'oignon). Some of the scenes from the life in that apartment ended up in my novel Summersnow that I wrote on the typewriter you can see in the picture. (Yes, you got it right. Typewriter!) That was also the book that ...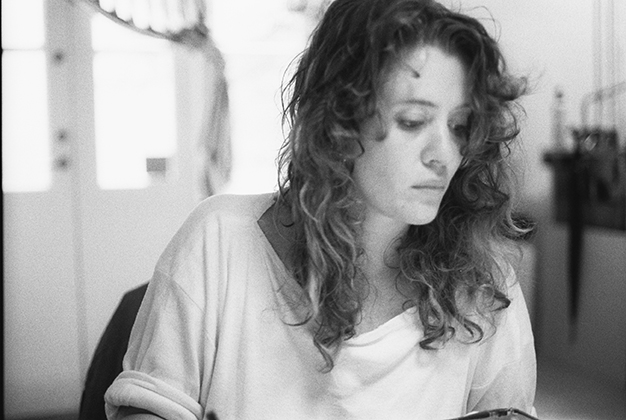 Lotta Kühlhorn made the cover for. (She was studying at the Collage of Arts, Crafts and Design at the time and it became her first bookcover. By now she's made far more than a thousand.) To make a long story short: We met in 1984 and have been married since 1987. I took this picture in our studio at Brännkyrkagatan. You weren't allowed to live there, just use it as a workspace. Everybody in the building of course knew that we were living in the studio, but we kept lying about it still.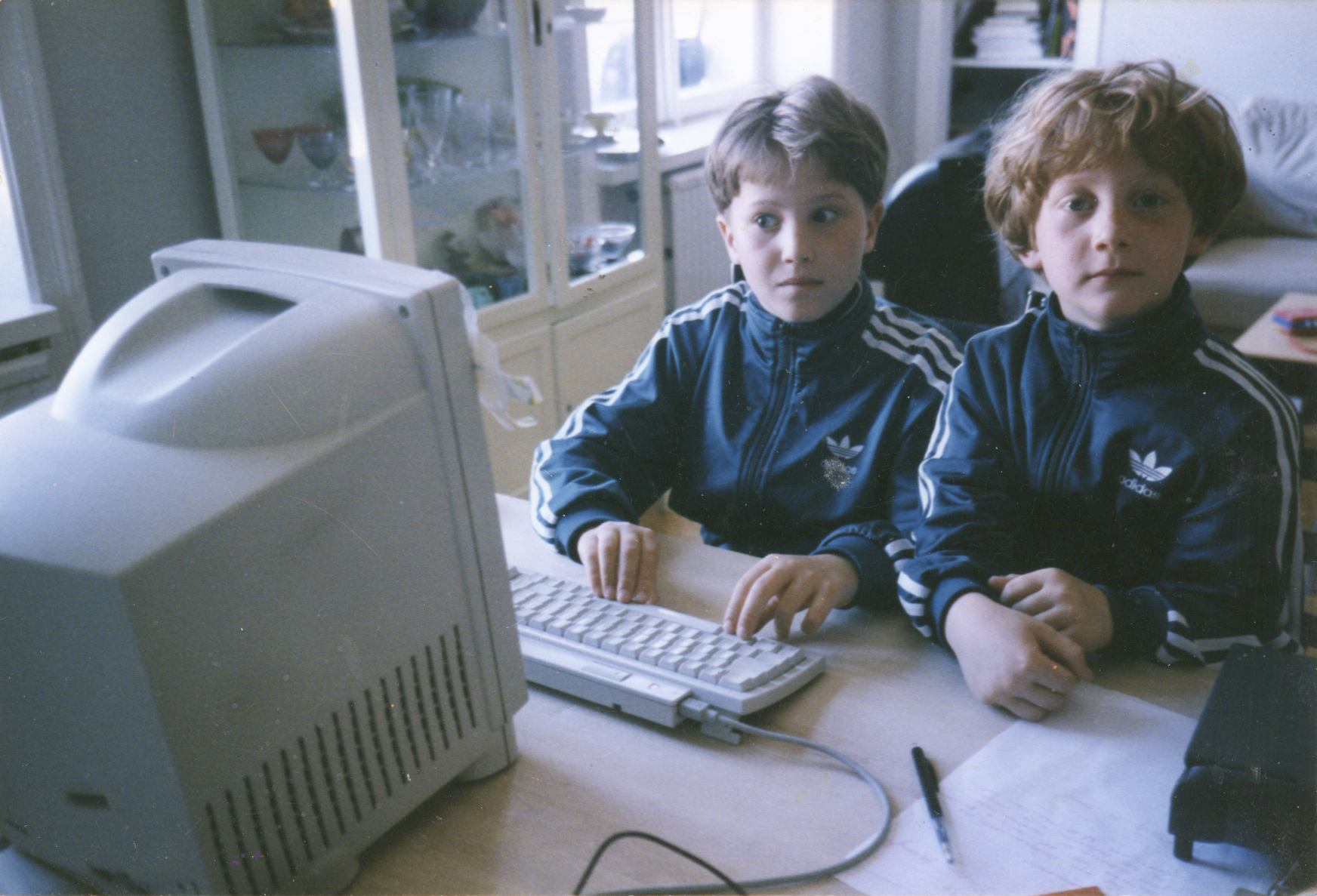 Fabian and Sigge came at a fast pace. Here in their Royal Tenenbaums outfits. Twentyfive years later they are not so different from this picture. They both studied graphic design and worked as graphic designers for a few years, but Sigge is now a chef and Fabian is studying to become a sommelier.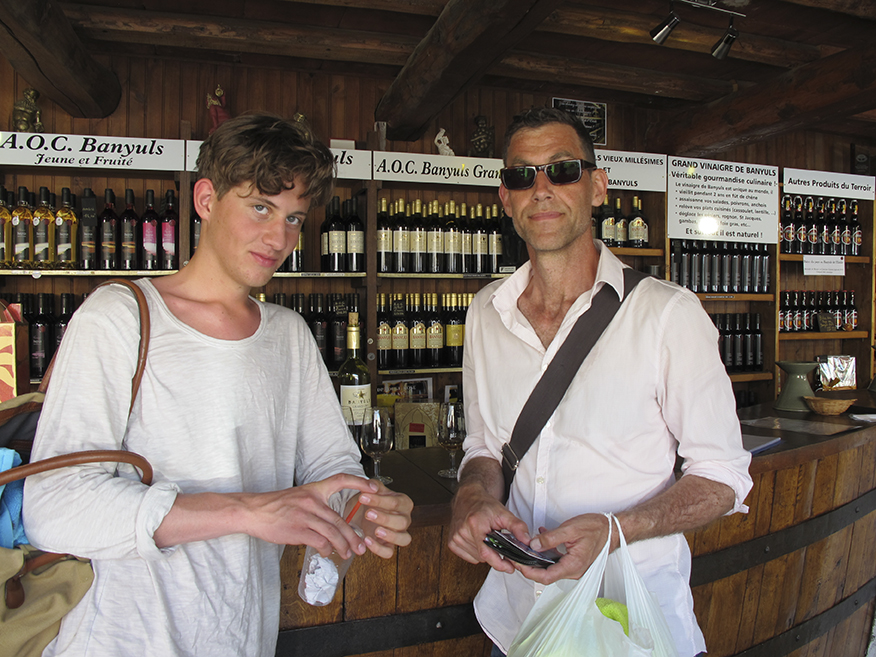 Then there was a seven year gap before Folke was born. The whole family share the interest in wine and food. I think my interest in wine was born long before I could drink it, hearing my father talk about Alsace and Bourgogne when we were travelling in France during a couple of my childhood summers. This is me and Folke in Banyuls, a place we've returned to now and then, since the kids were small.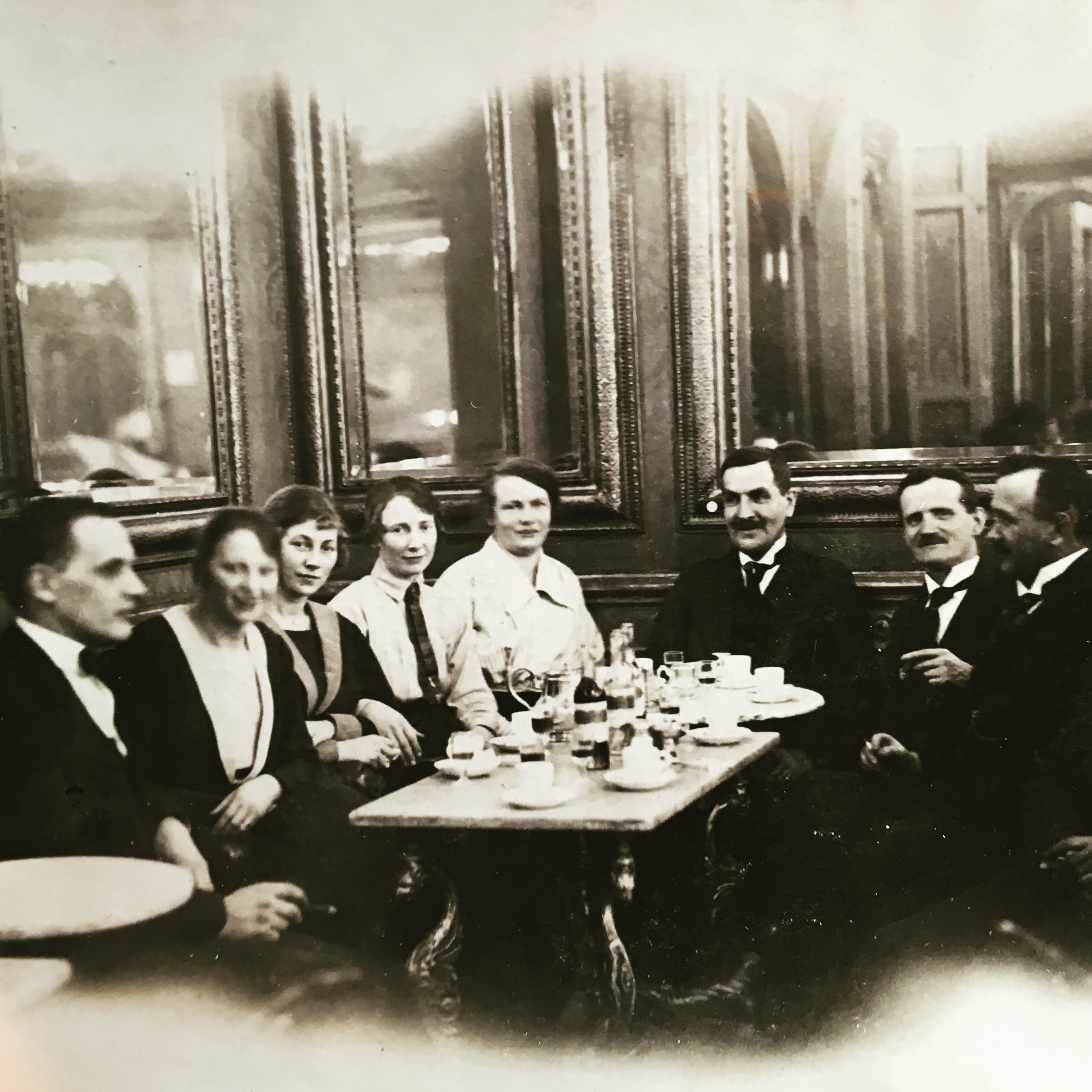 My grandfather didn't drink wine at all. (At the far side of the table.) Hans-Petter was a teetotaller. He grew up a son of a crofter in a small village in the north of Sweden, had a local political career and ended up as a broker and real estate owner in Härnösand. I like this picture. It gets my fantasy going. I think it's from the 1930's or may be the late 20's.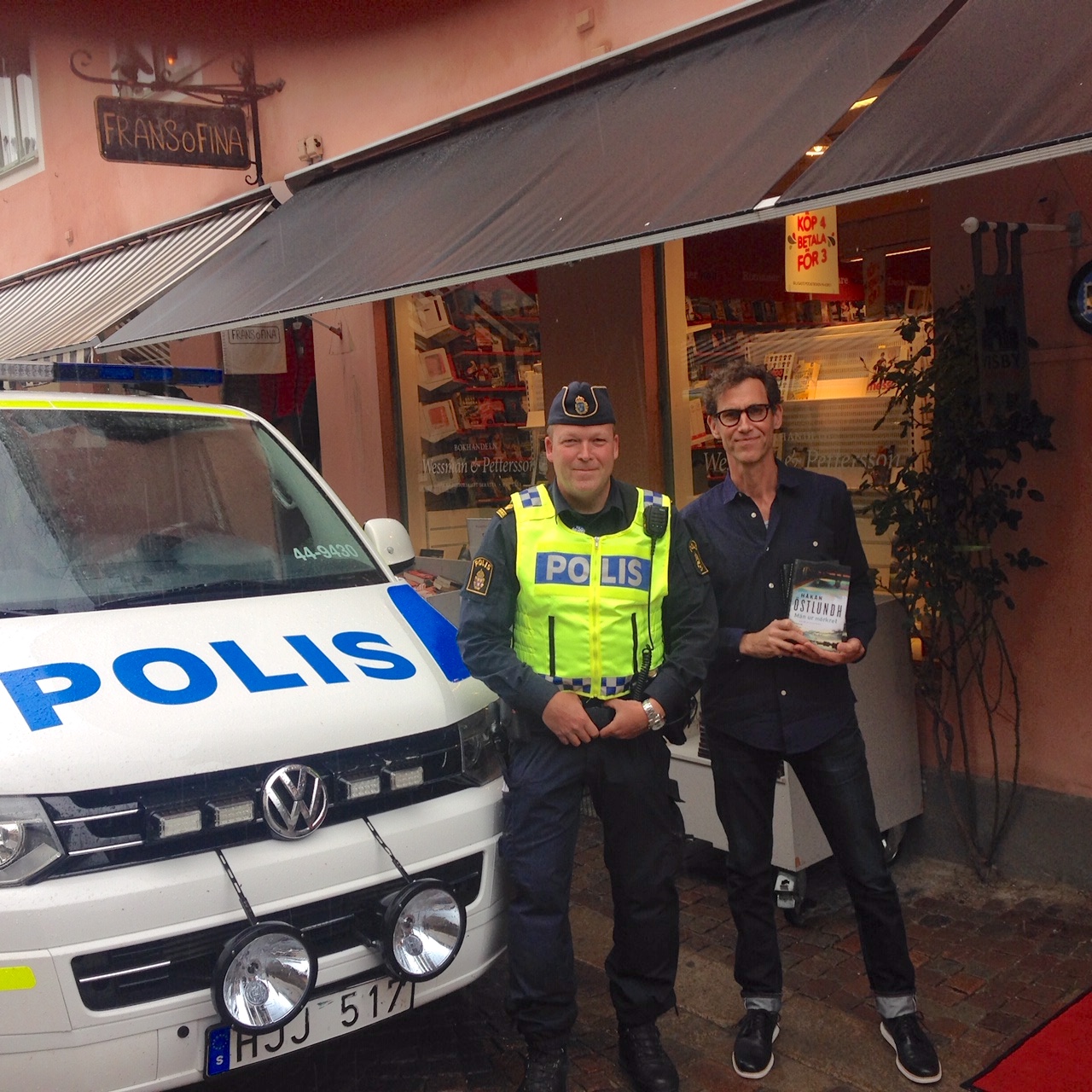 In Visby with a V.P.D. officer that has contributed a lot to the now finished series about crime on the Swedish island Gotland. In the background the book store that individually has sold most copies of the Gotland series.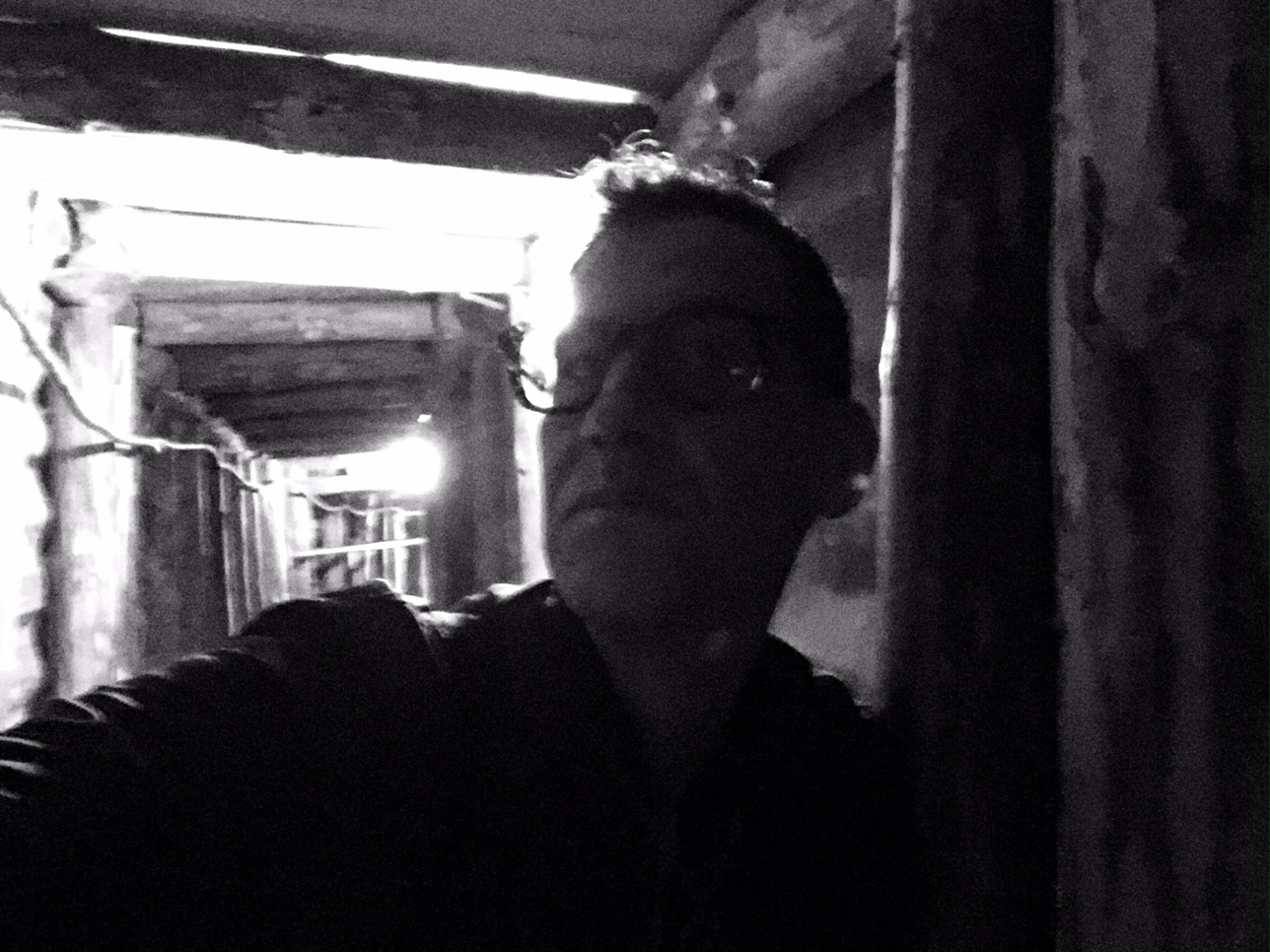 In the tunnel built under the runway of Sarajevo International Airport during the 90´s siege. I spent four days in Sarajevo in January 2018 to do research for The Winter of the Prophet. This was an amazing and very interesting day with a former Bosnian policeman as my personal guide.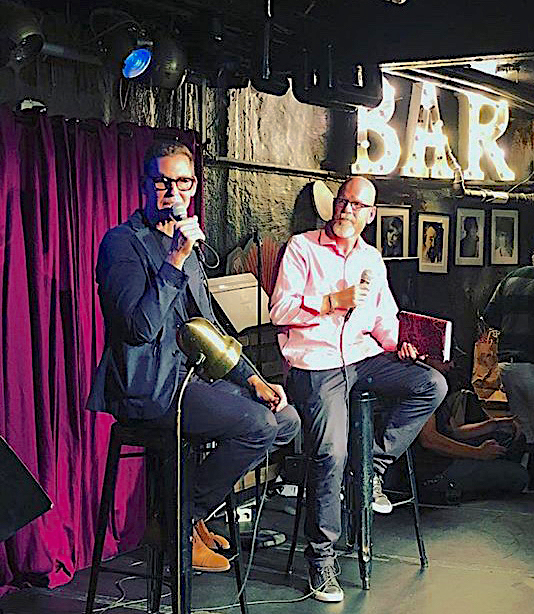 Presenting The Winter of the Prophet together with Swedish publisher at Polaris, Jonas Axelsson, at the release event for the book. My aim with the new trilogy is to create an exciting spy story, as well as to expose a side of Sweden that is rarely seen, but exists and festers underneath the neat facade.